Welcome to the Official Horus Heresy: Legions Wiki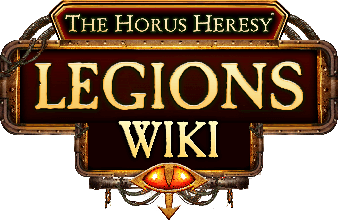 We are currently maintaining 2,545 pages (1,073 articles).
Please feel free to contribute by creating new articles or expanding existing ones.
About
THE ROAD TO TERRA IS OPEN
Grab your bolter, board the Thunderhawk… and play cards! The Horus Heresy: Legions will take you on an epic journey through one of the richest settings of Warhammer 40,000's history. Play cards to field troops, execute tactics and embody the heroes and villains of The Horus Heresy. Join a Lodge and plot your way to take over the galaxy with new friends. Make history fighting in time-limited events with game-changing consequences.
With an ever growing collection of hundreds of cards and dozens of Warlords to lead your decks, the path to victory will always shine with new strategies to build powerful decks of unstoppable Space Marines.
Play in Ranked and Friendly modes with your best deck or master Sealed Deck events using cards you might not own yet. Need more practice? Duel any member of your Lodge easily, go solo against the AI, or issue a challenge to any player you know.
Are you ready for this time of reckoning?